Introducing:

GUARANTEE YOUR SPOT TODAY!
Havoc Academy launches this Fall! Through a series of online classes and mentorship, you'll get everything from bot-building basics to pro tips from real NHRL champions.

We'll take you from complete beginner to creating your own fighting robot and competing at our tournaments, having lots of fun and learning new skills along the way!

Spaces are limited! Sign up to reserve your spot today (no commitment required) and be the first to receive details about the program when it launches this fall!
Questions? Reach out to academy@nhrl.io.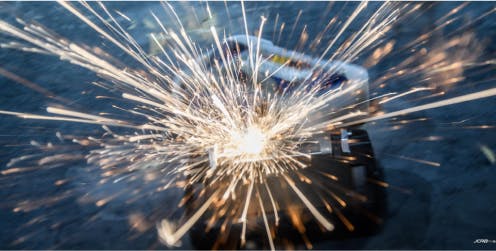 ENROLLMENT OVERVIEW
GUARANTEE YOUR SPOT TODAY!
On-demand masterclass
Virtual workshops
Academy-only events
Academy training at our tournaments
Mentor program with experienced builders
NATIONAL HAVOC ROBOT LEAGUE
NHRL is the largest and most accessible robot combat league in the world. We host a series of robot combat tournaments streamed live from the House of Havoc in Norwalk, CT, including the 3lb, 12lb and 30lb World Championships. Builders combine groundbreaking technology and off-the-wall ideas to amaze audiences, compete for thousands of dollars in cash prizes, and attempt to claim the coveted Golden Dumpster. Want to get involved? Learn about the Havoc Academy below, launching this fall!